Default

Title

Date

Random
Why the Armageddon Program?

The days of one-size-fits-all and one-instructor-who-knows-everything weight loss fitness programs are obsolete. We focus on personalized; truly holistic, evidence-based scientific programs not just quick fixes. Armageddon means the final battle
More
Featured

Popular

Top

Latest

New

Random

More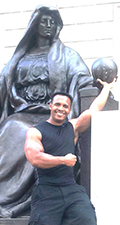 Bruce Wayne has over 30 years of wellness experience. Bruce worked 11 years at Harvard Medical School's Teaching Hospital on the Bone Marrow Transplant ICU.
More