Bruce Wayne

 – 
Creator of Armageddon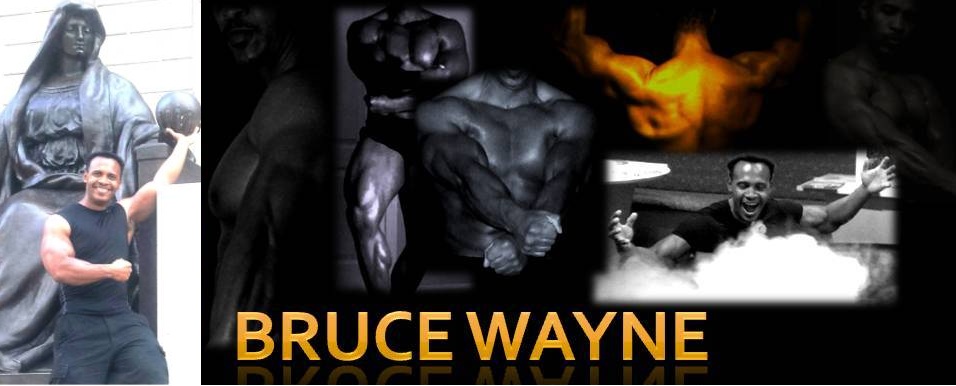 Qualifications and Experience Matters!
Bruce Wayne has over 29 years of experience in the health and wellness industry. He has developed health and wellness programs for many Fortune 500 companies.  His clients have lost 25 to over 238 pounds, drug free and with very few supplements. This is as natural as it gets! Many of his clients have become champion athletes winning the Ironman, golfing championships, and have competed on the international stage. If you really want to lose weight, get toned, increase endurance, and achieve sustainable results; including lowering your blood pressure and taking control of your health, Bruce Wayne is your guy and Armageddon is your program!
Recommendations
Bruce Wayne's Sports Medicine Product Inventions!

Some years ago, I was fortunate to work with Bruce for several years on various inventions related to sports medicine…  I found Bruce to be an extraordinary individual. If he takes on a problem, he will go to Herculean efforts to find a solution…. Bruce quickly absorbed information and was able to very quickly come up with a myriad of clever ideas about how to solve various engineering problems… Bruce also demonstrated his desire and ability to get to the bottom of a subject, understand it and, with that knowledge, come up with excellent ideas. He is fully committed to doing something right and not half way. Bruce is passionate about helping people and in doing it in a scientifically sound way… I highly recommend him as someone who is trustworthy, dedicated and knowledgeable." more

Samuel Patz – PhD Physics, Associate Professor of Radiology, Harvard Medical School                        

Scientific – Director, Center for Pulmonary Functional Imaging at Brigham and Women's Hospital
Bruce Wayne's Integrity!

"I learned a lot about fitness and nutrition from Bruce. Unfortunately, he told us the real truth – gimmicks and fads do not work. Bruce showed us how a focused fitness and nutrition program designed with the individual in mind really makes the difference. Bruce sincerely cares about his clients. I respect his honesty and integrity."

Top qualities:  Personable, Expert, High Integrity 

Marylon McGinnis Senior VP – Global Support, Infor
Bruce Wayne's Results! 

"he has helped many, many people achieve their personal goals, He is tireless, committed to the cause of fitness, creative and a real thought leader in his field" – Top qualities: Great Results, Expert, High Integrity

Joel McGinley – Executive Director of Technology – Enterprise Application Operations Support at Cox Communications
Bruce Wayne's Qualifications:
Masters of Management Degree – Cambridge College, Cambridge, Massachusetts
Certified Master Personal Trainer – Certified to teach, Health and Wellness, Fitness, Aerobics, Strength, Nutrition.
Certified Wellness Practitioner – designation symbolizes strong academic preparation, breadth of professional leadership experiences in the wellness field – National Wellness Institute
Author of Virtual Diet Program – Implementing Nutrition Science to Optimize Health & Fitness
Author Armageddon Nutrition Guide – Developed in conjunction with our Registered Dietitians both with advance degrees in nutrition science.
Author -Armageddon Alpha Series Guide -The Science of Weight Loss
Emergency Medical Technician-Northeastern University Boston, MA
Former Eastern United States Bench Press Champion

Bruce Wayne Won Numerous Patents For Inventing Sport Injury Prevention Products as well as Medical and Surgical Products.

Winner of 2 United States Patents – One specifically to treat sport injuries – Fire & Ice Compression System

Medical Product Developer – Developed multiple patented medical and surgical products for medical manufacturers and so much more!
Wellness Program Developer 
 Bruce Wayne has helped numerous fortune 500 companies develop successful cost saving wellness programs. Give us a call to learn more. Call us at 774-240-5287
Developer of Armageddon World – In conjunction with multiple scientific disciplines and experts.
Without their contributions none of this would be possible!

 Today your old world ends! Welcome to your new world…    Armageddon World!