NEW UPDATE

– CHERI LOST A TOTAL OF 88 POUNDS
WAIT! WAIT!

WATCH HER TESTIMONIAL VIDEO RIGHT NOW THEN SCROLL DOWN AFTER AND LISTEN TO HER RADIO INTERVIEW WITH OUR ENDOCRINOLOGY DOCTOR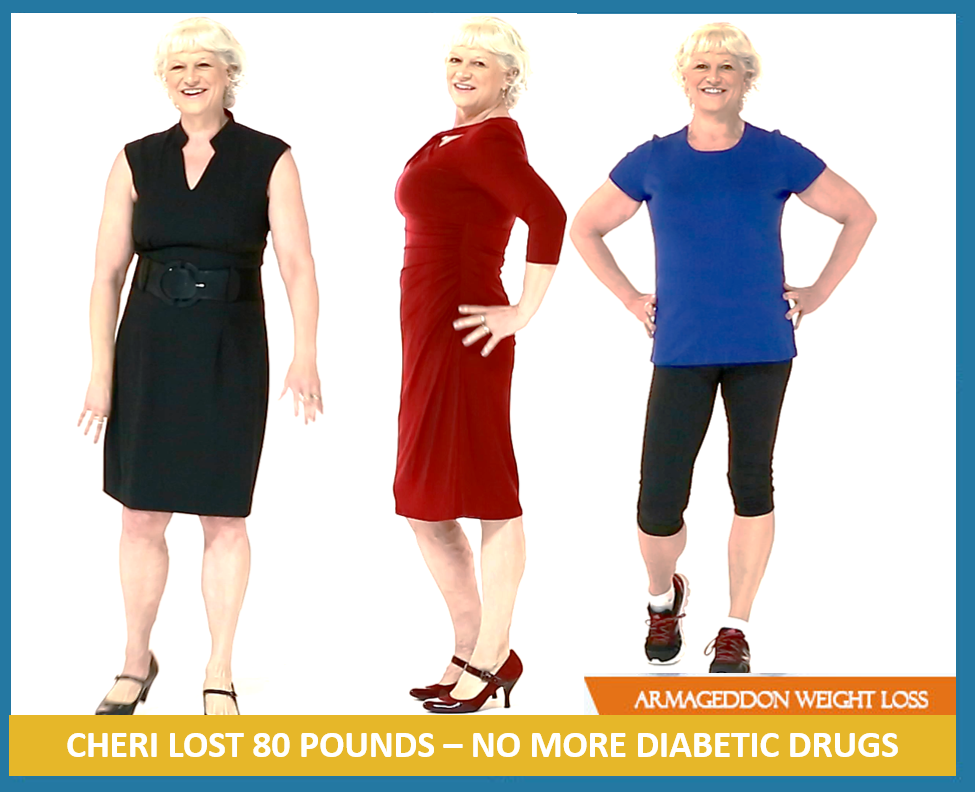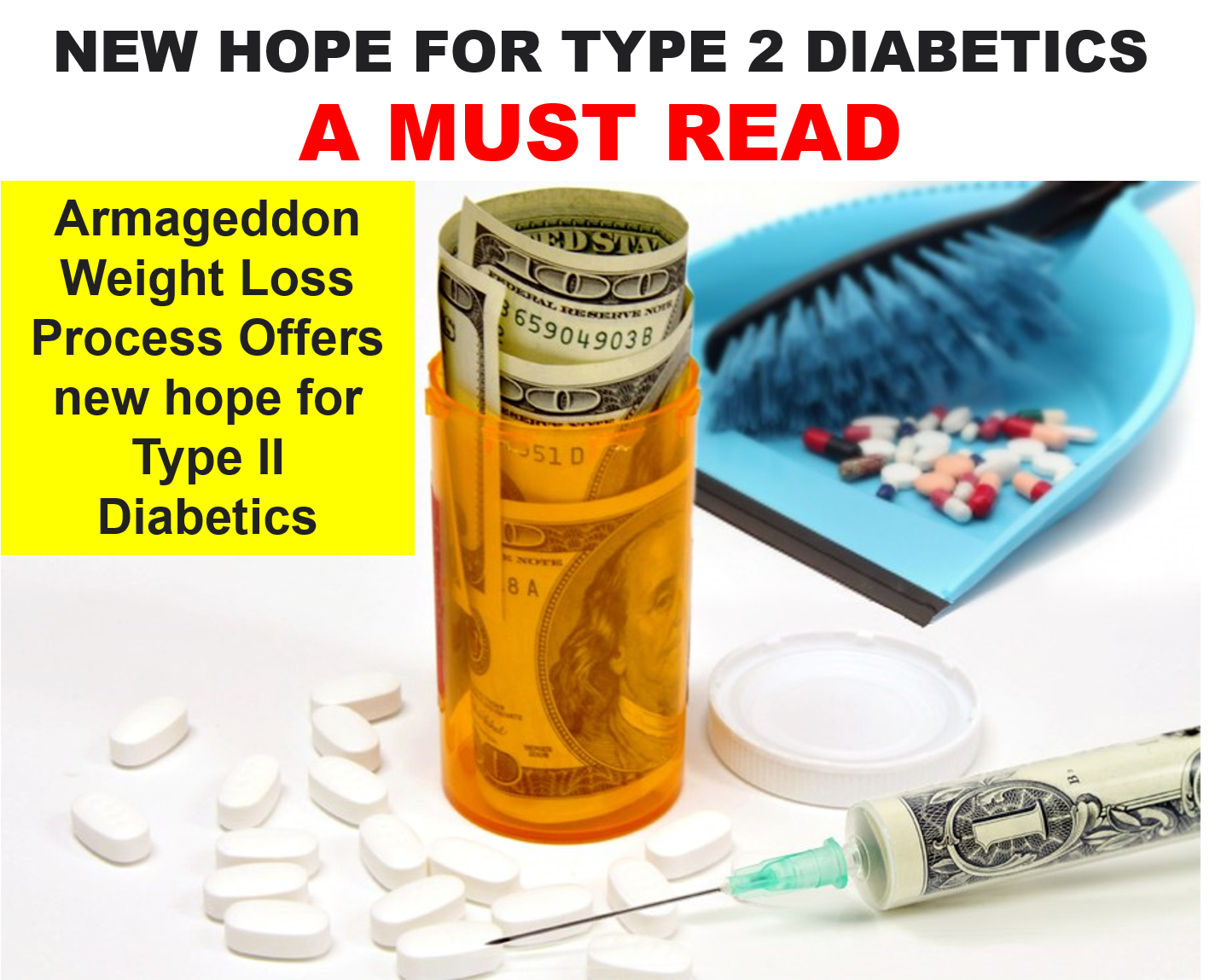 Cheri's case is so impressive that The Armageddon Weight Loss Process is now being review as a possible new more sustainable way to treat diabetic patients. The Armageddon Weight Loss process offers a new way for diabetics to be able to stay in "remission", a state in which all signs and symptoms of diabetes disappears. We now have a new terminology for diabetic, we call it " Chronic Remission". Diabetes is a chronic progressive disease with no current cure. However, based on the definition provided by the American Diabetic Association that diabetic remission is "a state in which all signs and symptoms of diabetes disappears". What if we could keep some diabetic patients in constant remission for life? (CLICK THE READ MORE BUTTON AND LISTEN TO CHERI'S RADIO SHOW INTERVIEW ALONG WITH OUR ENDOCRINOLOGIST DISCUSSING THIS NEW BREAKTHROUGH FOR DIABETICS.  CLICK HERE OR (HERE IS THE LINK http://armageddonworld.com/radio-show-podcast/).
While the patient would not be technically cured of their disease, if they had no signs or symptoms of their disease wouldn't that be one hell of an advancement for diabetics? This is our goal and so far things looks very promising for many of our diabetic clients. This means that Type 2 Diabetics may be able to get off their medications similar to Cheri and stay off their medications possibly for life! Listen to the Armageddon Weight Loss Radio show to hear Endocrinologist Dr. Kathy Trumbull discuss Cheri's case and why Armageddon Weight Loss may offer new hope for Type 2 diabetics.
LISTEN TO CHERI'S RADIO INTERVIEW RIGHT NOW
To listen to the Podcast of previous show including the show featuring Cheri, click on the link below and then when you arrive on the page scroll down. Cheri's story is the third show. The podcast for the show featuring Cheri's story will be available on May 17th 2016. (the next day after the live show is aired)  Here is the link: http://armageddonworld.com/radio-show-podcast/
Here is Cheri's Story Below
Here is what Cheri said when we interviewed her on her first day.
Cheri  Menoni, RN is the Department Head of the Admissions for 150 bed free standing facility and a 29 bed sub-acute facility. She also works PRN on the weekends on the floor.
I have not been below 200 pounds in 20 years. I work full time as a Registered Nurse and I am also in school full-time. I thought being active would help me to stay healthy but I was lacking the hard science to lose weight and get in shape and this had become detrimental to my health. Like many, I have all the exercise tapes and workout videos that I have used over the years.  I used Pilates, and also tried P90X but it was just too hard. In fact, I even had a routine. I would used 4 tapes on a regular basis. I would use some tapes from Shape magazine also. I would rotate between Shape, and Pilates. I felt tired, didn't like the way I looked and I wanted to stop my  diabetic medications. I work 7:30 a to 5 PM or later in addition to weekends and I am in school.  I desperately needed energy.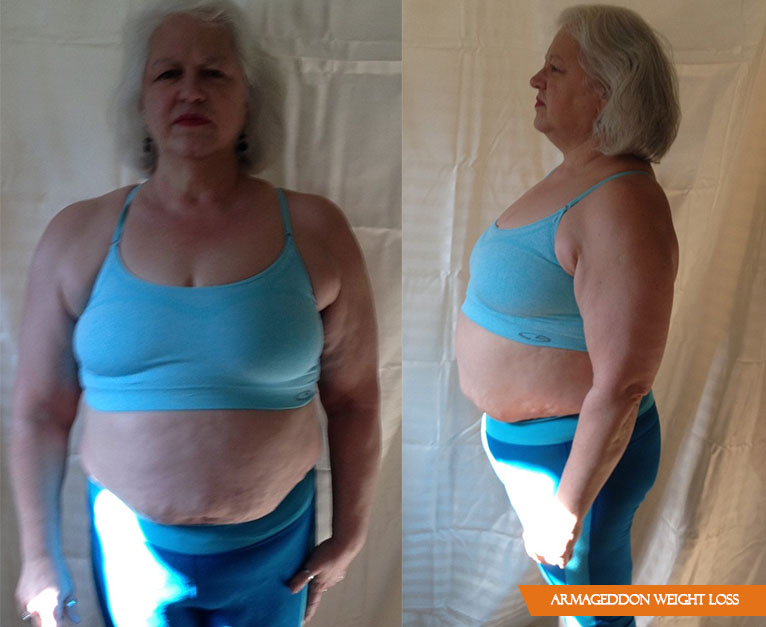 I don't like to exercise with other people
I hate Weight Watchers. I tried it and all they do is promote their food products. I do not like figure out how many points a food is in order to eat. I like to exercise and feel good when I do.  I clearly have not achieved results with my hodge-podge system.
I have a diabetic abdomen and I want to feel good about myself again
I tried to walk daily, but the weather often prohibits my ability to walk. Sugary – bars – kind bars – nuts with honey bar, I eat lot of them. I am a Type 2 Diabetic and take Metformin, Januvia, and Glipizine. I have a diabetic abdomen and I want to feel good about myself again. My father is in horrible condition and I do not want to be that person. I have seen so many patients with the same conditions. I want to change.
My Knee – don't know if is arthritis, I feel it a lot in winter. It just hurts if I do too much walking on it. I want to feel alive again.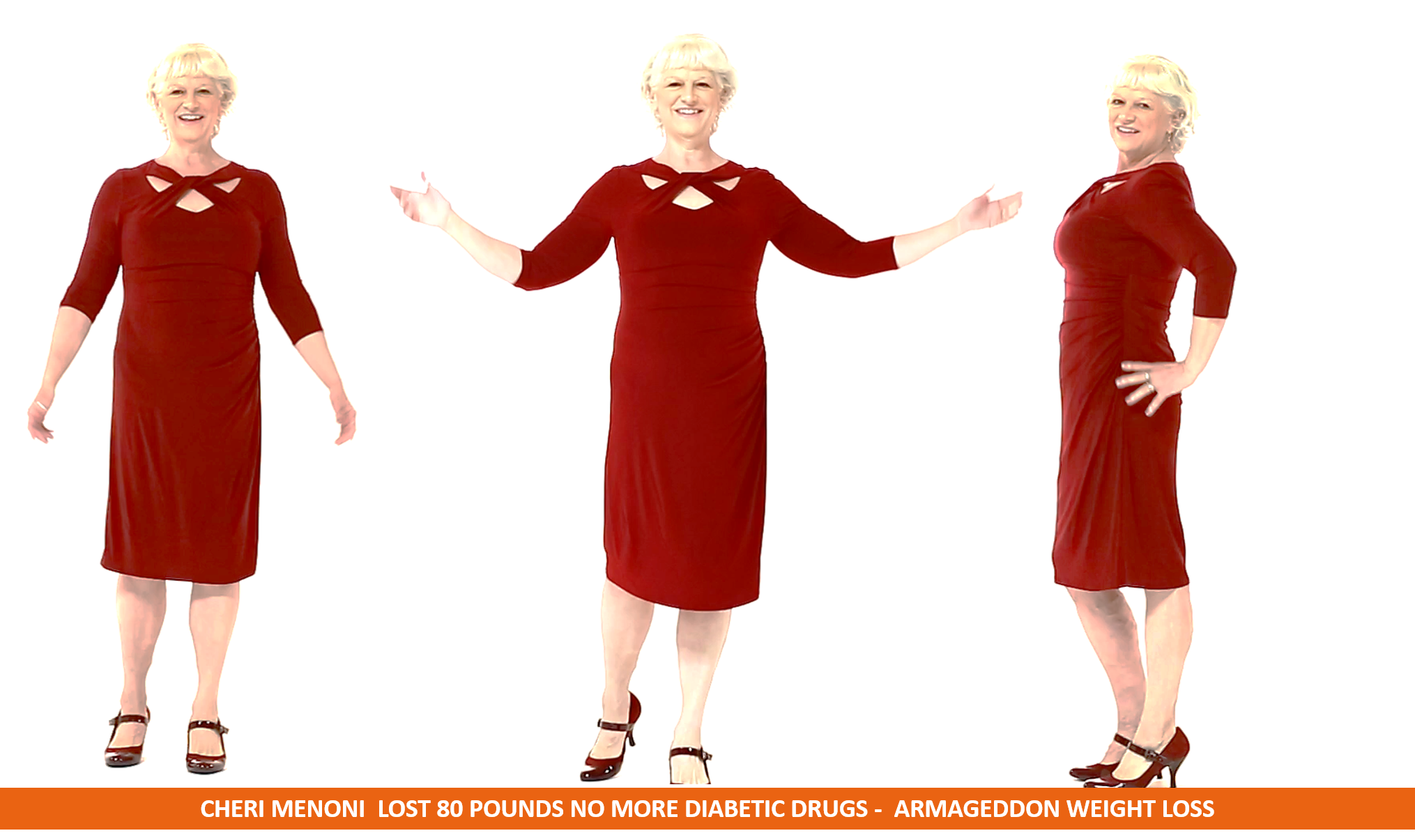 About my Armageddon Transformation – Scientific Data is Proof. 
I have made an amazing transformation.  I lost 88 pounds! I managed to get off of several medications including Metformin, Januvia and GLipizide. I decreased my blood pressure medication to 20 mg. My last blood pressure  was 115/72, and my resting heart rate was 61! My cholesterol dropped to 154. Hdl 59. Triglyceride 75 it was 200 when I started. My Hemoglobn A1C is now 4.8 and my doctor has stated that I am officially cured of my Type 2 Diabetes.  I can work a 12 hour shift now on my feet without pain. I have definition in places I didn't think I had muscles. I can shop in any story I want and i now wear a size 6 dress at 150 pounds and 5 feet 8 tall.
I am now running! I am fit! I have gotten my life back. I had to give away all my clothes several times. I am in the best shape I have been in in 30 years.  My hospital has asked me to speak to our wellness program group to inspire them. Hopefully I can recommend them to use Armageddon Weight Loss. Thanks you Armageddon Weight Loss for changing my life.
Now go listen to her radio interview right now! Click here